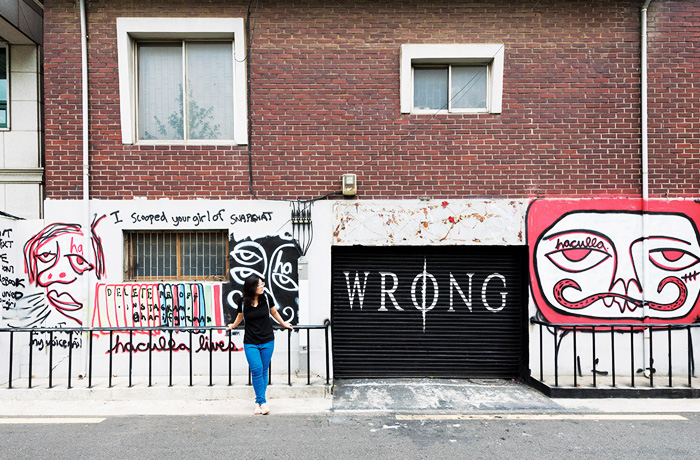 Photo: Some street art by New York-based painter Harif Guzman enlivens a wall in Yeonnam-dong. Photo by Robert Koehler.
Independent creativity fuels Yeonnam-dong's rise as a hip hotspot
The article courtesy of Seoul magazine
Just after lunch, young artists begin to arrive at Yeonnam-dong's Dongjin Market to set up stalls for their crafts. The many wares include handmade knitting, soap, jewelry, accessories, candles and plants. Later, visitors begin to pour in to check out the goods. The market, a repurposed arcade, combines old-school grit with youthful creativity, making it a microcosm of Yeonnam-dong itself. "In contrast to Hongdae, it's a quieter neighborhood, and you can find something unique around almost every corner," says Kwon Geun-woo, one of the market's coordinators. "It's one of the few spots within the metropolitan area where adults can still get that nostalgic vibe of old-school Seoul."
Drawing from the youthful passion and creative glow of the nearby Hongdae neighborhood, Yeonnam-dong nonetheless revels in its laid-back hipness. Stroll its alleys, and you'll discover a treasure trove of trendy cafés, quaint shops and cozy bistros where the proprietors aren't afraid to experiment. Gyeonggui Line Forest Park, one of the city's most charming urban parks, even adds a bit of green to the cool.
Keeping the community real
Take a ten minute walk north from Exit 3 of Hongik University Station, Line 2 to reach the entrance of an alley lined by small eateries specializing in a variety of exotic cuisines. To Seoul's community of gastronomes, it's holy ground. Along this alley alone you can find delicious Vietnamese Bánh mì sandwiches at Lie Lie Lie (T. 010-2880-7973), simple but satisfying curry from Himeji Curry (T. 070-4743-1055), addicting Thai dishes by Tuk Tuk Noodle Thai (T. 070-4407-5130), world class coffee served at Coffee Libre (T. 02-334-0615), and smoothing tea options from Salon de Ceylon (T. 070-8742-3310) and Macaron.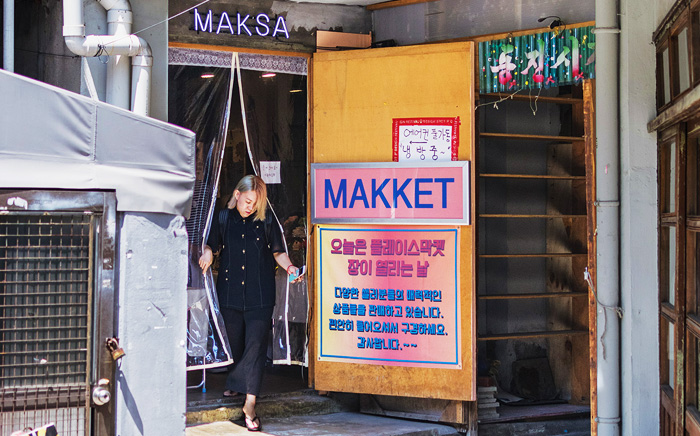 Photo: Entrance to Dongjin Market
The large building on the right side of the alley is Dongjin Market (T. 02-325-9559), which hosts an art market every Saturday and Sunday from 1 p.m. to 7 p.m. It's a vibrant place that's popular with Yeonnam-dong's ever-increasing number of young visitors. Many of the shoppers are more interested in Instagramming than supporting local artists, however, much to the merchants' chagrin. "More visitors mean the vendors can sell more goods. But there are those visitors who come by to only take pictures and leave," says Kwon, the market organizer. "Like any other person who has their picture taken by a stranger without their consent can get upset, having it happen every weekend has caused some stress for the vendors."
And Kwon would know – he's not just an organizer, but also a merchant. Moving to Seoul a year ago from the southeastern city of Daegu, he opened up a stall in the market, Red Almond, to sell seasoned almonds, a recipe from his sister, a chef. His almonds were a hit, and he'd found his niche. When the market was in danger of closing earlier this year, he and a partner took over ownership. "I had grown attached to this place I just couldn't let it die," he said.
The opening of the Gyeonggui Line Forest Park last fall has increased foot traffic to the market, but also raised concerns about gentrification. When a major skin care brand opened a shop in the neighborhood earlier this year, some local merchants took it as an ill omen. "There's been a subtle hike in rent and I'm worried that if more of these corporate businesses come in, the rising costs will force the small businesses out," says Kwon. "They're the ones who gave this neighborhood its charm." So far, however, tenant owners are cooperating with community organizers to keep rents down in order to maintain the spirit of the neighborhood.
Wandering through east Yeonnam-dong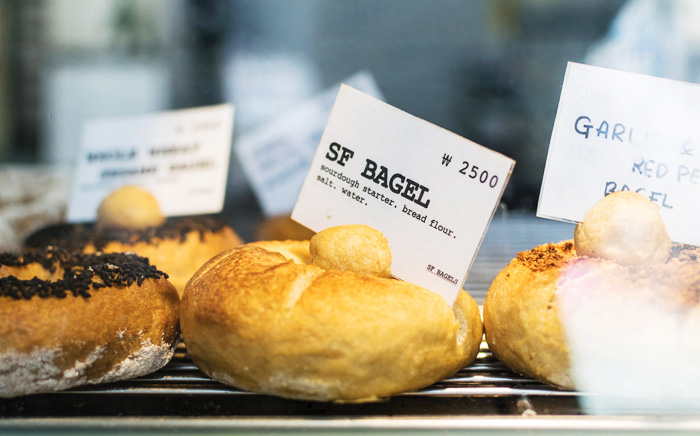 Photo: Sourdough bagels at SF Bagel
Move past Dongjin Market and one can catch the whiff of fresh baked goods coming from none other than SF Bagels (T. 02-333-0823). The owner went in person to San Francisco to take classes on how to make classic sourdough bagels and brought what she learned back to Seoul. In addition to the bagels, there's an assortment of other delicious baked goods including scones, muffins, and cookies as well as a variety of homemade cream cheeses.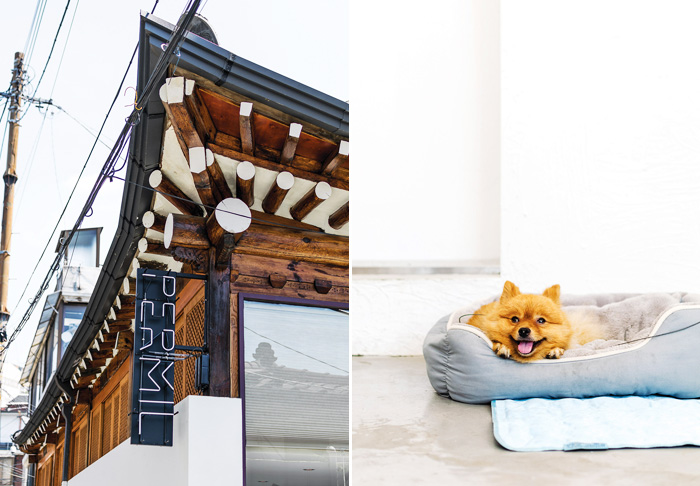 Photo: Newly opened gastropub Permil (left) / Poby relaxes at Darlem (right)
Walk down the road from SF Bagels to see the hanok-roofed building of the newly opened Permil Gastro Pub (T. 02-336-0305). They opened their doors at the beginning of July and serve savory brunch options and steak entrees. Designed by design studio 13m2, the building exhibits a hybrid of the traditional aesthetic with modern interior flair.
Take a few lefts to stumble upon Darlem (T. 070-7647-1604), a lightly floral themed but minimalistic café set slightly below ground level. Their tag line is "near art location," a literal translation from Korean which implies that the space is a collection of independent art and stories that are near and dear to the owners.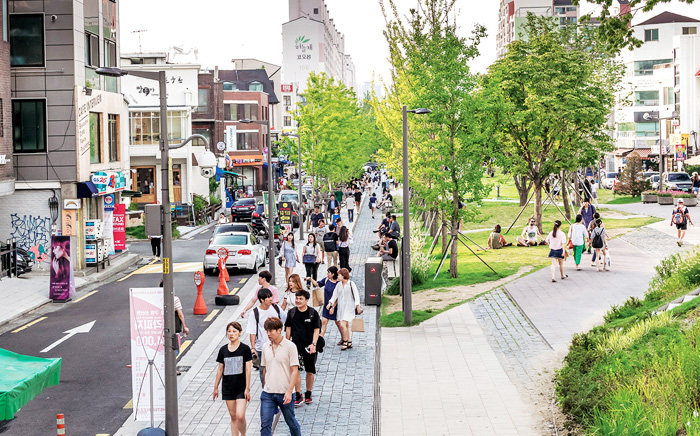 Photo: People, nature and commerce combine at Gyeonggui Line Forest Park.
Meander further through the maze-like neighborhood and eventually see the latest addition to the Gyeonggui Line Forest Park, a long park that traces along the original Gyeonggui Line railroad. This particular section of the part has been affectionately nicknamed "Yeontral Park" because of its location in Yeonnam-dong and its resemblance to New York's famous Central Park.
Running parallel on either side of the park are several well-known culinary destinations. Some of the more popular locations include breakfast spot Travel Maker (T. 02-338-1545) and the lip-smackingly tasty soup of Soupman (T. 02-333-0505), along with countless other cafés, pubs and guesthouses.
A little piece of Taiwan
In 1969, historic Seoul Overseas Chinese High School relocated from its original home in Myeong-dong to Yeonhui-dong, just down the road from Yeonnam-dong. The school, which follows the Taiwanese academic curriculum, is the city's largest secondary school for Korea's ethnic Chinese minority, or hwagyo. After it moved, manyhwagyo families relocated to Yeonnam-dong to be closer to the school.
Unsurprisingly, therefore, the neighborhood boasts some of the city's most authentic Chinese cuisine. There are about 30 Chinese restaurants in Yeonnam-dong. Maehwa (T. 02-332-0078) is a local institution that's been serving high-quality Chinese cuisine for three generations. Try the bichwi naengmyeon, or "Jade Naengmyeon," a bowl of Chinese-style chilled noodles. The noodles, made with spinach extract, are green, hence the dish's name.
Another local favorite is the recently relocated Hyangmi (T. 02-333-2943), which serves excellent dumplings andmenbosha, which are small, fried shrimp sandwiches.
Some of Yeonnam-dong's Chinese restaurants specialize in skewered lamb, a specialty of China's northeastern region. Others, however, specialize in the unique cuisine of Taiwan. Daeman Yasijang (T. 02-333-8871) and Little Taiwan (T. 02-784-7103) offer a wide range of hard-to-find Taiwanese dishes, including Taiwanese popcorn chicken and Taiwanese chicken fried steak. Both places are also popular pubs in the evening. Don't be surprised if you end up standing in line.
The article courtesy of Seoul magazine